Jiri Jirmal - guitar player, teacher and composer

česká verze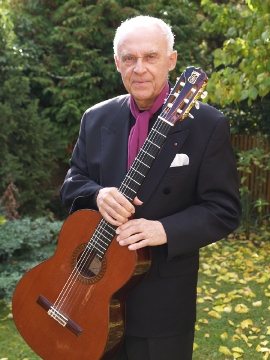 Jiri Jirmal
Guitarist-Composer-Teacher
Professor of the State Music Conservatory in Prague.
Guest Professor at the Hochschule für Musik in Saarbrücken (Germany).
Internationally recognized top guitar teacher.
Member of many juries of the International guitar contests and long-standing chairman of the czechoslovakian guitar contest.
Member of the international jury of the most prestigeous guitar competition RADIO FRANCE - PARIS, eleven of his students reached the final round of this competition - three of them end up on the top, two of them in the second place of this competition.
Author of the most popular guitar textbook and author of many music related professional publications.
Jiri Jirmal is an outstanding classical jazz guitar composer. His work was published by EDITIO BÄRENREITER PRAHA and EDITIO HENRY LEMOINE PARIS.
1999 - Publication release entitled "Cesty ceske kytary". The author, St. Barek explored in an interview with professor Jirmal his personal and artistic life.¨
2005 -The concert of Jiri Jirmal took place at the Hradcany Castle in order to celebrate his 80th birthday. The festivity was sponsored by the president of the Czech republic, Vaclav Klaus.
2006 - The municipal authorities of the town Prague in conjuction with the Intergram Corporation issued a price to Jiri Jirmal for an outstanding and long lasting artistic performance.
Toward the end of 2008 Jiri Jirmal released his 5th CD with a title "Classical Guitar Jazz Performances". This work represents a new arrangement of his compositions.
All Jiri Jirmal' s recordings and compositions are typical for his creative and innovative character, continuation of his lifetime concept that combines various elements of the classical and jazz music.